Originally published here by Jeanne Spreier
Celebrity judges weigh on student pitches at the annual Big Idea Competition at UT Dallas.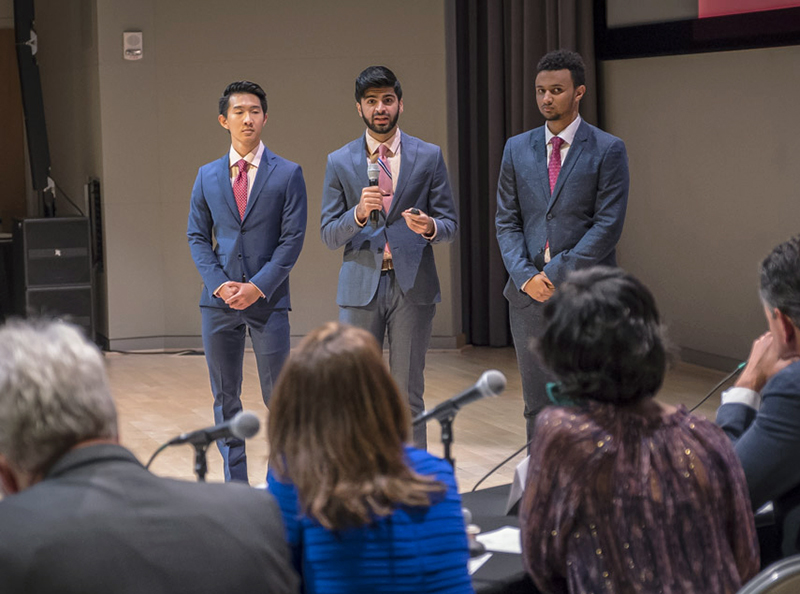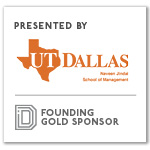 The Big Idea Competition at The University of Texas at Dallasshowed there is no lack of entrepreneurial ideas among its student-competitors. At the BIC finals last month, entries ranged from wearable robotics that augment human motion to web portals that improve the food supply chain. Other competitors' ideas included drones that municipal governments might use to detect air pollution, and virtual and augmented reality tools to improve brain health and enhance leisure activities.
The BIC was presented by title sponsor Interlock Partners and required entrants to be UT Dallas students as they competed for $40,000 in cash and scholarship prizes. In the months leading up to the event, Bryan Chambers, director of the UT Dallas Blackstone LaunchPad, helped semi-finalists with entrants' pitches and presentations and helps work through technical details to ensure their fledgling company will pass a battery of pointed questions from the judges.
This year, the five BIC judges were impressed.
Top honors went to NeuroRehab VR, which developed virtual reality games to help patients recover from strokes, neurodegenerative diseases or traumatic brain injuries.
Judges:
Guy Kawasaki, brand evangelist, author and speaker
Jeff Williams, BS'87, partner at Interlock
Julie Nickols, intellectual property attorney and partner at Haynes and Boone LLP
Courtney Caldwell, MBA'06, co-founder of ShearShare;
Robert Metcalfe, Ethernet co-founder, professor of Innovation, and Murchison Fellow of Free Enterprise at UT Austin's Cockrell School of Engineering.
Kawasaki, a renowned venture capitalist, put it succinctly: "Very polished pitches, well coached, well-prepared, ended on time, answered all the questions … Yeah, like being in Silicon Valley."
"Very polished pitches, well coached, well-prepared, ended on time, answered all the questions … Yeah, like being in Silicon Valley."
Guy Kawasaki
According to Nichols, the quality of ideas was exceedingly high.
"We were all very impressed with how relatively far along the companies had come in a short period of time," she said. "I was very impressed with Alta Air — for undergrads, that was a pretty sophisticated operation they've come up with."
Alta Air took home the third-place, $5,000 prize and won $2,500 for the best undergraduate idea. Alta Air was comprised of three Naveen Jindal School of Management sophomores: Konan Mirza and Jason Tran, both finance and economics double majors, and electrical engineering student Yosias Kassaye.  Their concept involved a modular drone design with interchangeable sensors.
Elaine Wang, a Jindal School grad student in management science, and Trusit Shah, a computer science PhD student, presented Cthrough, a mobile app that enhances the user's experience at attractions such as zoos and museums. Cthrough won the $10,000, second-place prize.
Other winners included Skyven Technologies, which earned the $2,500 Biggest Social Impact Award, and UT Dallas' Brain Performance Institute, awarded $2,500 for the Biggest and Most Innovative Idea.
To make her decision, Nickols put herself in the user's shoes and thought about the positive impact that a business such as NeuroRehab VR could have on people's lives.
"We've all had experiences in our lives; people we can think of that could be impacted by something like that," she said.
Kawasaki was impressed with the quality of ATEC PhD student Veena Somareddy's NeuroRehab VR pitch. Kawasaki also imagined himself using the product. "I think it was the smoothness of her presentation — it was so easy to understand why it's so helpful," he said. "I'm getting towards that age; so, yeah, it was very relatable."
For Somareddy, who co-founded NeuroRehab VR, the top honors brought additional validation for her team's efforts.
"Virtual reality is new," she said, noting that her team is trying to solve a significant problem with an innovative, real-world application of VR. "We've gotten validation from our patients and therapists. Now getting it from Guy Kawasaki and everybody else means a lot."
The prize money, she said, will help the company hire developers, put together a sales and marketing team, deploy the applications to five clinics across the U.S., and ensure the applications conform to Health Insurance Portability and Accountability Act (HIPAA) regulations.
"At the end of the day, it's all about the students and the learning experience," Guengerich said. "The academic and experiential sides of [UTD's Institute for Innovation and Entrepreneurship] complement one another, mutually support, and reinforce each other."